How do I become a patient?
Call our office at 860-747-0426 and indicate you are a new patient to the practice looking to schedule an initial appointment. During this call we will ask for contact information, availability for appointments and a brief description of why you are seeking our services. Our initial visit is 90 minutes and will be scheduled when follow up appointments are available to ensure continuation of treatment.
Do you take my insurance?
Olde Canal PT, LLC is a "fee for service" practice, accepting MasterCard, Visa, personal checks and cash. In order to provide you with the time and individual attention we feel is necessary to properly evaluate and treat your condition, we have elected not to participate with any insurance company networks. In insurance terms, we are considered "Out of Network" Physical Therapy providers. If you have an Out of Network provision on your policy you can submit our receipt to your insurance company for consideration for reimbursement. It is important for you to communicate with your insurance company so you understand any policies regarding pre-authorizations, treatment limitations, percentage of reimbursement and mechanisms for submission of claims prior to the first visit.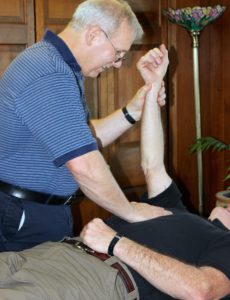 Do you take Medicare?
We are not Medicare providers or accept any government-funded programs (HUSKY, Medicaid, TriCare). We also do not accept workman's compensation or contingency arrangements such as medical-legal cases.
What can I expect on the first appointment?
The first appointment is scheduled for 90 minutes.  During this time a thorough history and evaluation is taken and initial treatment performed. In addition, a home exercise program is developed based on the evaluation results and response to treatment.  The goal of this program is to support changes made and facilitate further recovery. Future treatments are scheduled for 60 or 30 minute sessions at a frequency determined by the outcome of the evaluation.
Why is a home program important?
A home program of exercise, stretching or instruction in postural positioning is prescribed to support changes made during treatment. Long and short term improvements are significantly influenced by whether these suggestions are followed.